Shopping Cart
Your Cart is Empty
Thank you for your business!
You should be receiving an order confirmation from Paypal shortly.
Exit Shopping Cart
Call Today! (915) 474-9472
We will work with most insurance
companies and credit cards.

Uninsured or Underinsured
We Finance! Se Habla Espanol
Periodically check for roof damage, especially after storms

Examine and maintain gutters and downspouts

Check flat roofs for pooling of water and solve drainage problems quickly

Check the HVAC systems for leakage and keep drip pans clean and dry

Look in Your Basement or Crawlspace for any Moisture

Prevent Condensation: Venting moisture from appliances to the outside using exhaust fan.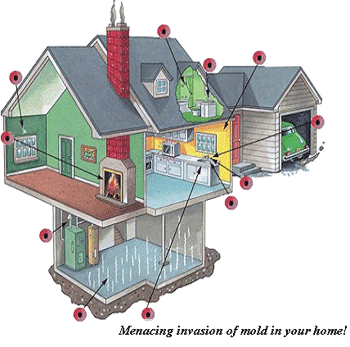 Airducts are a major source of indoor air pollution. Airborne contaminants are pulled into the air ducts every time heating and cooling system runs. Over time these contaminants build up inside the ductwork, creating and ideal breeding ground for mold, bacteria fungi, and other microbes.
Air ducts systems often become contaminated with mold. Duct systems may be constructed from bare sheet metal, sheet metal with exterior fibrous glass insulation, internal sheet fibrous glass liner, or they may be made entirely of fibrous glass. Bare sheet metal and sheet metal with external fibrous glass insulation can often be cleaned, while ductwork made of sheet metal with an internal fibrous glass liner or made entirely of fibrous glass will usually need to be removed and discarded.
Provide appropriate drainage

Inspect crawlspaces for standing water

Clean out gutters in fall and spring

Maintain proper grade so that moisture flows away from the building

If water intrusion is found in your home, call Jimmy Garza to clean up the affected areas as quickly as possible and take immediate steps to resolve the source of the problem
By performing these home maintenance activities on a regular basis, you can avoid mold-related problems.
How do I know if I have mold?
You can see mold

You detect a strong musty odor

Occupants of the dwelling are experiencing the following symptoms:

Nasal congestion

Dry cough

Watery or burning eyes

Aggravated asthma

Breathing problems/wheezing

Respiratory illness

Nose Bleeds

Headaches

Skin rashes
Call Jimmy Garza Now! (915) 474-9472
/